Biotune Chiropractic in Edgewater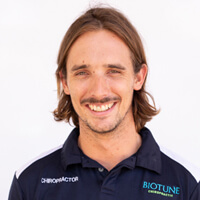 We're pleased to have opened a location in Edgewater in 2020. Chiropractor Dr Callum Macnish is our primary practitioner at this office. Our spacious premises include a reception area and treatment room that are modern and comfortable.
Insurance Information
Just like our other practice, we accept all insurances. This includes private insurance, Medicare and Department of Veterans' Affairs coverage. If you have questions about your insurance, please contact our team and we'll be happy to assist you.
Easily Accessible
We understand that it can be difficult to fit appointments into your busy schedule. You'll be pleased to learn that it's simple to park here. There are car parks around the office, in the back of the building or you can park on the road.
We share our space with West Coast Occupational Therapy. We're just across the street from Goodstart Early Learning, making it easy to find us.
Our primary chiropractic technique is Advanced Biostructural Correction™, also known as ABC™. It is a full-body, manual-based method that corrects and optimises the biomechanics of your skeletal framework. With ABC, we locate misalignments that your body has been unable to self-correct.
When a misalignment occurs, a domino effect in the body results. The muscles compensate for these unhealthy patterns. Over time, symptoms will likely develop.
According to the American Journal of Pain Management (1994, 4: 36-39), your posture affects and moderates every function in the body, from breathing to hormone production. This study states that your posture has the power to influence headaches, your mood, blood pressure, pulse and lung capacity.
By using ABC, practitioners around the globe have noticed consistent, predictable improvements in the stability of people's posture. Because of the relation between postural balance and function, patients report improved pain levels, greater mobility and an ease of breathing that they didn't have before.
Frequently Asked Questions
Does a chiropractic adjustment hurt?
Typically, a chiropractic adjustment doesn't cause pain. We perform muscle work, however, that can require a firmer touch. Know that your comfort is always our priority. If you would like less pressure, please inform us. Your feedback is welcome.
Chiropractic is based on the idea that your health and wellbeing depend on your nervous system and spine. When you have an injury or are in ill health, we seek to enhance your mobility. At the same time, we work to improve the brain's awareness of your body so that you can function properly. We do so by using a chiropractic adjustment, which applies force to an area with restricted movement. The goal of the adjustment is to enable the area to regain its proper motion.
What's the difference between physiotherapy and chiropractic?
You might think that a physiotherapist and a chiropractor do the same thing. While a physiotherapist may perform muscle work, adjustments and rehabilitation as a chiropractor does, chiropractic goes beyond that. Our chiropractors have extensive training in the diagnosis of your problem. We will pinpoint the cause of your issue and work with you to achieve correction. In addition, we can address your body's soft tissues and help you with a rehabilitation program.
Get Started Today
Contact Biotune Chiropractic now to schedule your first appointment!
Contact Us in Edgewater


Chiropractic Clinic in Edgewater WA | Biotune Chiropractic