Dr Jill Mokrzycki (Chiropractor)
Seeing Chiropractic's Benefits Firsthand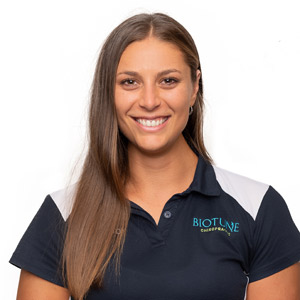 For as long as I can remember, chiropractic care has been a part of my life. My mum first introduced me to the profession when she had a choice of taking medications or seeing what a chiropractor could do for her. She decided that chiropractic was the more conservative approach and has enjoyed its many benefits ever since.
I grew up interested in nutrition, health and the human body, so chiropractic was a natural choice for me to go into. During my courses I attended events such as surf lifesaving championships, Southbound Music Festival and even travelled to the rural area of Meekatharra, treating athletes, musicians and the public. I liked educating people on what chiropractic could do for their general health. It became addicting to see the amazing changes made in people's lives!
Learning More Every Day
Since finishing school, I continue to learn things every day about what chiropractic can help people with. The holistic approach of chiropractic care aims for wellbeing and health of the entire body, rather than focusing on one area.
Being a chiropractor allows me to feel wonderful about being able to help so many people through conservative, natural and safe solutions.
Discover your greatest levels of wellness. Contact us today to book a time that works for you. Saturday appointments are available!

Dr Jill Mokrzycki (Chiropractor) | Biotune Chiropractic