Dr Matt Coxall (Chiropractor)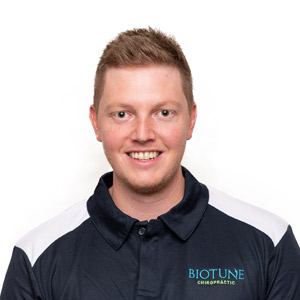 Tranforming People's Lifes
I graduated from Murdoch University with a double degree in 2014, I then began my working chiropractic journey as an associate chiropractor at both Cockburn Central and Duncraig Chiropractic. I have now been working full time at Biotune Chiropractic since April 2019.
My family has been receiving chiropractic care for over 20 years and as a result, I was exposed to the various health benefits of Chiropractic from a young age, I believe all people have the right to be taught about the health benefits of chiropractic. ABC (Advanced Biostructural Correction™) has been my technique of choice as a result of its consistency when it comes to producing positive outcomes for the people I look after time and time again. I have worked hard mastering this technique over many years and love watching peoples' bodies transform in front of me.
Understanding the Importance of Health
I have a passion for natural health and enjoy living a healthy and active lifestyle. I look forward to treating individuals with existing chiropractic knowledge and I am eager at the opportunity to introduce chiropractic treatment to first-time patients and their families.
Contact our team today to get the time and attention you need to improve your health!

Dr Matt Coxall | (08) 9301 2229