Our Joondalup Location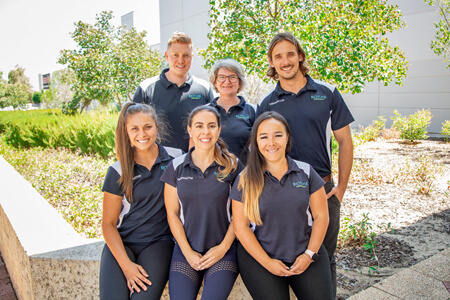 We're thrilled that you're considering care with us. Biotune Joondalup is our flagship practice, located on the corner or Boas Av and Grand Blvd. We have been in this convenient location for nearly 10 years, best known for our skeleton "Fred" who resides outside the front door.
To best serve our clients, we're proud to keep this location open early and late, which gives you the best convenience of seeking the care you need when you need it most. With flexible hours and a talented, dedicated team, we'll be here for you every step of the way on your journey to natural wellness.
We're happy to offer clients ample onsite parking located just outside of the front of the practice. There's also overflow parking available within a short walk at Joondalup shopping centre.
A Focused, Unique Approach to Care
Our team believes in offering clients the best possible care for long-term success. Through Advanced Bio Structural Correction (also known as ABC), we're able to correct problems in your body through optimising your skeletal framework. We'll dive deep to uncover exactly what's going on in your body, identifying misalignments and areas of disturbance that need correction.
With us, care will always be custom and tailored to the unique needs of YOU, which is why we're happy to offer services beyond chiropractic, including:
Dry needling
Massage therapy
Trigger point therapy
Gua sha
If we think you'll benefit from any of the modalities above or a combination, we'll let you know and work swiftly to get you feeling better quickly.
Proudly Accepting Private Health Insurance
Biotune Joondalup accepts all chiropractic insurances which can be claimed onsite at the time of your appointment. These include private health insurance, Medicare (care plan) and Department of Veterans' Affairs coverage. If you have questions about your insurance cover, please contact our team and we'll be happy to assist you.
Get Started Today
If you'd like to learn more about our offerings at this location, we're happy to assist you in whichever way we can. Contact us today to book a visit and begin your journey to true health, naturally.
We can't wait to meet you and become a part of your journey.

Biotune Chiropractic | Biotune Chiropractic